RENT A CAR ROMANIA
"Our company provides car rental in Brasov and in other major cities in Romania. Choose your car hire appropriate to your need from a complex car rental offer!"
Rental Date:
Rental Location:
Return Date:
Return Location:
Dacia Duster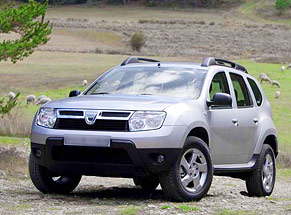 1 - 3
52€
4 - 7
49€
8 - 14
45€
15 - 30
42€
31+
37€
Car Features
ABS
Air Bags
Air Conditioning
CD player
Central lock system
Power Windows
Manual
Gasoline
5 Passengers
5 Doors
x 3
This Dacia Duster is offered for rent/hire in Brasov.
Back to
Brasov Cars List
Included in price
Collision Damage Waiver (CDW)

Covers the rental vehicle in the event of accidental damage to the rental vehicle other than by theft or attempted theft.

Theft Damage Waiver (THW)

Theft Damage Waiver provides coverage for the theft towards your rented car, provided by an official statement document obtained from the official authorities.

Third party liability (TPL)

Third Party car Insurance covers you for damage caused by your car to a car owned by a third party in the event of an accident.

VAT

Value Added Tax is a tax on the estimated market value added to a product material or service at each stage of its manufacture or distribution. The value of tax in Romania is 19% applied to the price of product or service.
Not included in price
Additional driver

Additional drivers will be anyone other than yourself, who will drive your rental car. Even if you rent a car, but never drive it, you are automatically considered the primary operator of the rental vehicle. Anyone else who drives your rental must be approved by the rental company. They must complete and sign a form at the rental counter.